This week, Strong Towns is in Detroit, following the stories of CNU participants and Detroit natives who are making their town stronger. Today we're sharing the story of Peggy and Tom Brennan who recently renovated and opened two unique buildings in downtown Detroit: the Green Garage, a business incubator and coworking space, and El Moore, a residential apartment building and urban lodge. I spoke with Peggy to find out how these businesses got started and where they're headed now.
Rachel: How long have you been in the Detroit area?
Peggy: My husband and I both live in a suburb of Detroit. Our entire lives we've lived in the Detroit area.
Rachel: What led you and your husband to start the Green Garage and El Moore?
Peggy: Back in 2003, my husband had recently retired and we returned from a three-year stay in Japan. He was interested in learning about the sustainable lifestyle. He said, I think it's not only the future for a general philosophy but also business-wise. At the time we were pretty much empty nesters. I had just completed a masters degree in library science. I proposed that we get a group of friends together to study sustainability and make changes that were appropriate to our lifestyles.
We started meeting in 2005 with about a dozen people. We met every Tuesday morning for two hours, talking about various topics having to do with sustainability, or things that we read about sustainability. We spent nine months just focusing on water. We said, Let's make some changes to our lifestyle. Let's do this together. We put rain barrels in our yard. We changed our lawns to have less grass and need less water. We changed out toilets and lightbulbs. In the process of experimenting with a more green lifestyle, we thought it would be interesting to develop a sustainability demonstration center.
Rachel: What was the process of getting that sustainability demonstration center started?
Peggy: We wanted to locate near a university. Our initial thought was Ann Arbor. We spent a couple of years looking for properties there, but during that time there were some very trusted friends of ours who said, "You know, Detroit might be a good location for this." It hadn't occurred to us, but the more we thought about it, we thought learning about sustainability might be really helpful in Detroit. Ann Arbor already has a lot of initiatives.
The first building we saw was the Green Garage. We spent two years in community discussion. 200 people volunteered their time to plan, donate materials, etc. We turned our plans over to the city of Detoit and got approval in seven business days. We had two years of construction, then we opened in 2011.
The Green Garage is three things: a community of people dedicated to Detroit's sustainable future, a business enterprise, and a building located in Midtown Detroit. Our Green Business Incubator helps triple bottom-line (3D) businesses grow naturally. We believe businesses are living organisms...not machines. The Green Garage is also home to a sustainable coworking community of more than 50 small, growing, and established businesses.
The Green Garage in Photographs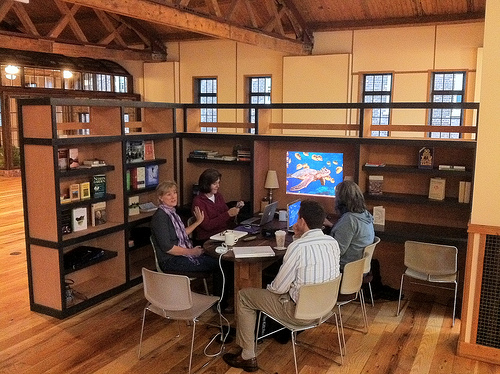 Rachel: What's the neighborhood like where the Green Garage is located?
Peggy: It's the cultural center of Detroit. It's a beautiful neighborhood and home Wayne State University, the public library, the art museum... Those anchor institutions are here. There's also great retail and restaurants.
Rachel: What was the next project you worked on after the Green Garage?
Peggy: People in midtown Detroit approached us and asked if we'd be interested in helping save an old castle-like building. My husband had always had the idea that it would be interesting to develop a green building for living accommodations. We purchased the building, but waited a couple years to do construction. Part of that was to get plans in place. We also wanted to finish the Green Garage first. It took about a year and a half to get El Moore completed. We opened apartments about a year ago.
Rachel: How is the space arranged at El Moore?
Peggy: One component is apartments and the other is b&b style rooms. In January 2016, the nightly rentals opened. There are several standard rooms, plus a suite with living room, kitchen, bedroom, and bath. In the basement we have two hostel-type rooms that are shared accommodations. We also built rooftop urban cabins.
In addition, we have three floors of apartments. We used materials that we found in the building while rebuilding. (To read more about sustainability practices at El Moore visit this page.)
El Moore in Photographs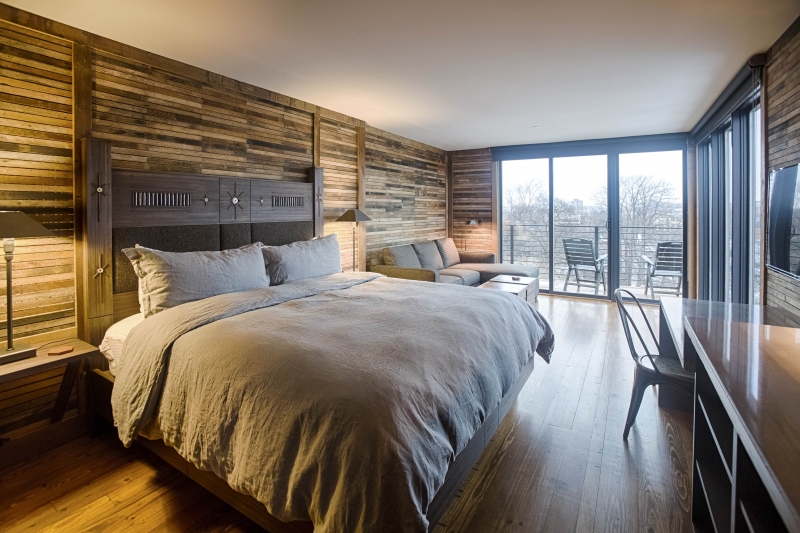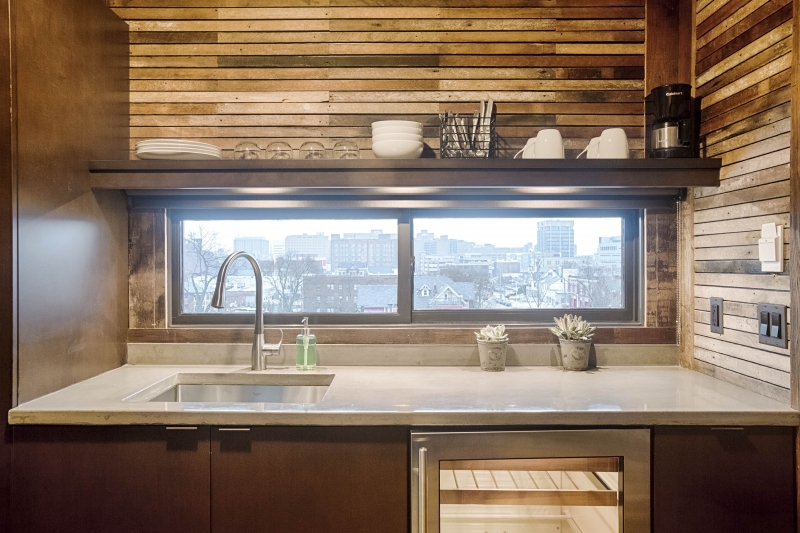 Rachel: What have been your challenges and successes in running these places?
Peggy: The major success at the Green Garage has been developing a coworking community — a group of businesses that support each other. The other success is the building itself. We use only 1/10th of the energy and water of a traditional office building. We also produce about 1/10th of the waste.
The major success at El Moore has been its foundation in the community. There are lots of opportunity for the people who live and visit here to interact with each other. The breakfast everyone is welcome to attend. The apartments are in demand. Our rental numbers are quite high.
Both businesses are profitable and the community we're forming is a healthy community. This is a very rewarding way to spend our retirement.
(All photos property of El Moore and the Green Garage)